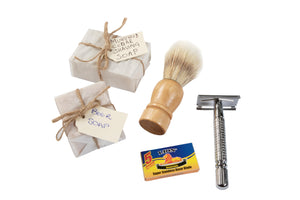 Eco Razor Bundle
R 350.00
Regular price
R 450.00
Product Details
Eco safety razor set with blades, 1 cedar , 1 beer shaving soap & shaving brush Bundle
A safety razor set is a smart investment for a zero waste lifestyle.

Great beginners kit that comes with a safety razor, 1 stainless steel razor blade, a Cedar and Muhuhu shaving soap, a beer shaving bar and a shaving brush.
A safety razor is an all-metal (ours is hard chromed razor) with a durable handle and double-sided blade. In a safety razor instead of throwing away the whole head to change the blade, the blade alone is removable and replaceable. The blade access is standard, where you screw off the whole head to remove the blade. The Razor is made of zinc alloy and is hard chromed to be corrosion resistant. It is 8.5 cm long weighs 60 g. After shaving take the blade out of the razor . Rinse and clean ( Ensure all hair is out ) them individually. Wipe it thoroughly with a towel. Store the razor and blade separately in a dry place. With proper care, they can last a long time. Safety razor is a sustainable and beautiful alternative to disposable razors.
The set includes:
1 Safety razor - Made of all-metal and hard chromed and is 8.5 cm long
Weighs 60 g.
A pack of stainless steel blade
1 Cedar & Muhuhu shaving soap (approximately 100 gm) Ingredients: coconut oil, castor oil, baobab oil, cedar essential oil, muhuhu essential oil, goats milk, oatmeal, kaolin clay, sodium lactate, sugar, yoghurt
1 Beer shaving bar for wet shaving (approximately 70gm) Ingredients: coconut oil, sodium lactate, lemongrass essential oil, sugar, coconut cream, kaolin clay, milk stout beer

Our soap/shaving bars are lovingly handmade in the South Africa and contain pure, natural ingredients. These bars are ideal choice for people with sensitivities, or those who want healthy, nurtured skin! Our skin is our largest organ, so using toxin-laden personal care products can have a detrimental effect, not only on the condition of your skin, but also on your overall health. It lasts a long time and creates a rich lather when worked properly and does not dry the skin.

No artificial colourants or fragrances
No sodium lauryl sulphate (SLS)
No parabens
Preservative-free
Proudly palm-oil free!
.
Once you have tried our shaving bar, you will never want to go back to the commercial shaving cream.
Shaving brushes are great for lathering shaving soap on the parts of the body that needs shaving. Shaving brush can create a better lather, can prepare & soften the hair and skin to ensure closer shave. They also works as a gentle exfoliate.

How to use
Moisten the skin with warm water
Wet the brush, shake of excessive water and rotate the brush over the shaving soap in a bowl to create lather
Apply the lather in circular scrubbing motion to the shaving area.

Cleaning Instruction
Rinse off the brush with clean water and soap/shampoo bar. Dry them with a clean cloth. Keep them in a well ventilated surface to air dry with bristles facing down.
This product practices or provides the following Eco choices: Reusable, handle can be compostable & bristles need to be ecobricked.

This product practices or provides the following Eco choices : Reusable, plastic free, recyclable, zero waste. Shaving soap is handmade in South Africa. So low-carbon footprints.